When I started making jewelry a year ago, I never expected I would want to turn it into a business. If you've seen some of the blog features about me, you may know that I actually started making jewelry as a hobby to help me deal with depression and loneliness. It's been a year working on my craft and almost a year (9 months next week) on Etsy. So far I've had 15 successful online sales, sales at different craft shows, and the loving, supportive sales from my family members.



Running a business isn't as easy as setting up shop and letting the sales roll in. Even those who seem to hit it big quickly have a reason (having a unique niche product, bringing customer base from other sources, SEO, veyr low price points, etc.). And then even the most successful among us entrepreneurs experience the ups and downs in traffic, hearts, and sales that all the rest of us have. This year has been particularly hard for many people, with a combination of the struggling economy, the growth of competition both within and between online venues, and major changes in important sites like Etsy and Google.
It's easy to get discouraged if you're not doing as well as you'd like and I've seen quite a few people make the decision to close up shop this year for various reasons. However, if you want to stick with it and make your business prosper, you'll need to find a way to encourage yourself and stay motivated during slumps. Here are some tips that can help:
*
KB Shimmer
of Etsy suggests working on new projects and improving your craft: "
Be it searching through garage sales for new vintage items, finding new images to use for collages, or taking classes to learn a new technique, there is always a way to improve our craft."
* M2bC o

f Artfire suggests refreshing your work space:
"I re-organize my supplies or work area -- that always stimulates ideas for new possibilities."
*Coolstraps

of Artfire recommends using the time for growth and renewal: "
I think the slump is actually part of the creative process. Sometimes I just look at my materials and can't think of a thing to make that isn't hackneyed and boring. So, I clean my house, do some tasks I've put off, and just hang out with my kids, watch movies, and read. About a week of that and things start flowing into my head to make. I think I kind of welcome the slump in a way. Sometimes I just need to stop for a while."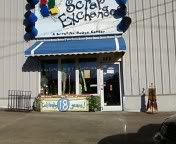 When I'm in a sales and creative slump myself, I go back to my sources of inspiration. I go to the Scrap Exchange to find new donated fabric scraps and hope to stumble upon something interesting (which is how my recycled key magnets were born). I get off the computer, leave the house, and go someplace new just to people watch. I write or read or go crazy buying new supplies. Whatever it takes to get your creativity going, go do it. It may be just the new energy your shop needs to take off again.
My personal #1 tip on how to stay motivated is to remind yourself that the only way to get out of the slump is to keep moving. You're only guaranteed to fail if you stop trying!
How do you stay motivated during the slow times? Leave your tips in the comments!
Until next time,
Elle